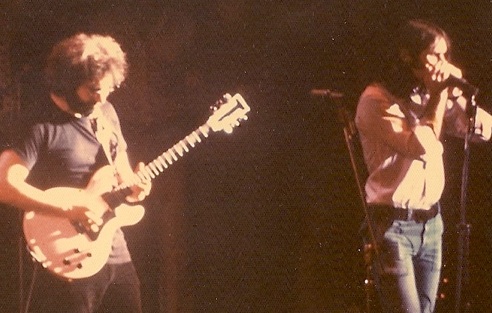 In 1973 Matthew Kelly, who was to become the co-founder and leader of the band Kingfish along with Dave Torbert/New Riders of the Purple Sage and also later Bobby Weir from the Grateful Dead, started to record his first solo album entitled "A Wing and A Prayer". The album featured not only Jerry Garcia, Bobby Weir, Brent Mydland, Keith Godchaux and Billy Kreutzman from the Dead but also just about everybody from the original San Francisco bands; just to name a few, John Cipollina/Quicksilver Messenger Service, Jerry Miller/ Moby Grape, Donny Baldwin/Jefferson Starship, Michael Bloomfield/Electric Flag, David Nelson and Buddy Cage/New Riders... etc. etc. According to Bill Graham and Playboy Magazine, it was the best and most extensive anthology that ever came out of the Bay Area music scene. As fate would have it, Matthews solo LP, "A Wing and a Prayer"  eventually led to the formation of Kingfish.
The real highlight of the making of Kelly's "A Wing and a Prayer" LP came about when much to Kelly's surprise, upon his first entering the studio, he spotted Jerry over in the far corner with his guitar in hand and all ready to swing into action! The reason that this was such a shock was that nobody apparently even knew that Garcia would be coming, let alone playing on this LP,but nonetheless, there he was, all set up and  prepared to lay down some of his all time classic Jerryesque guitar riffs on the songs "Ridin' High" and "Dangerous Relations".

This was, in fact, the beginning of Kelly's personal relationship with Jerry Garcia. It's true that Matthew did jam with Jerry and the New Riders before Buddy Gage took Jerry's place as the pedal steel player as well as having done many live shows with the Dead over the years, but the real connection between the two came about during the recording of A Wing and A Prayer. This album was 10 years in the making which is one of the reasons why so many Bay Area bands are represented. Somewhere around the end of 1980, Kelly was putting on the final touches at Bobby Weir's home studio and it was at this time that Jerry dropped by again, liked what he heard and offered to be the producer of the album. They spent 3 or 4 days/nights listening and working on all the songs. It was during these sessions that Jerry graciously offered the Alembic guitar to Matthew as a gift. The guitar had been "living" in Weir's studio since 1972 when Jerry was working on one of his first solo albums and continued to live there until Kelly quit Bob Weir's Ratdog in 1998. Matthew kept the guitar in its guitar case until very recently.

Matthew and his wife Mary then moved to Hawaii and eventually to Thailand. For the last 10 years, they have been working with schools, homes and destitute communities supporting orphans, refugees, children at risk, women, and families in need. They started Amicus Foundation of Thailand. ALL proceeds from the sale of this guitar, Lucky #13, will go towards helping impoverished villages and hill tribe refugees along the Thai/Burmese border. 

Following is a brief synopsis of Matthew's connection with the Grateful Dead. This does not include any of his credits or extensive background with some of the blues greats such as T-Bone Walker, Mel Brown (Bobby Blue Bland), Champion Jack Dupree, Sunnyland Slim, John Lee Hooker, Brownie McGee etc. 

Matthew was the only sideman who played consistently with the Grateful Dead. He played in excess of 20 live shows with the Dead. He and John Cipollina often played at the much celebrated New Year's shows. Kelly also played on 2 albums: Wake of the Flood & Shakedown Street as well as on the historic CD/DVD of the closing of Winterland 1978. In addition, Kelly sat in occasionally with the Jerry Garcia Band. In regard to Bob Weir, not only has Bobby played extensively with Kingfish since 1974, but Matthew has been in several of Bobby's sidebands, the most notable being Bobby and the Midnites and Ratdog. Matthew was one of the original founding members of Ratdog. Kelly and Weir actually go all the way back to their childhood together, when they became friends before they even reached the age of 10.

Visit Wikipedia for further information on Matthew Kelly and Kingfish.